Objects: Traveling and More
is a graphics package that shows up in the Image Pool when working the with Casablanca Columbus (Version 2.2 or Version 3) map animation software.
The product contains 59 new graphic items that can be used as Head Objects or Key Objects (or independent 3D-Objects in Columbus 3) in an animated Columbus travel map.

Here are the new objects (added to the objects already included in the Columbus software):
8 Cars
8 Water vehicles
14 Aircraft
8 Summer
7 Sports
14 Miscellaneous

Some of my favorite in this package are the animated people - surfers and snow skiers in 'Sports' and the waving & walking couple in 'Summer'.

Here is a screen shot of the new objects
(image courtesy of Macrosystem AG/ Motion Studios)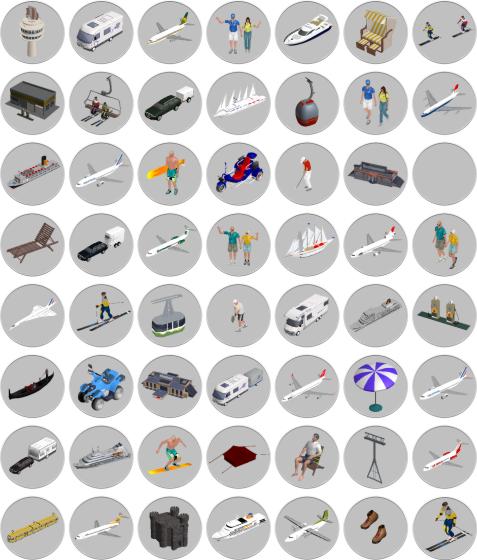 ---
Casablanca Expert Chet Davis presents detailed tutorials for maximum success with Columbus 2 and Columbus 3 software in his Casablanca Foolproof Volume 4 - Columbus Intensive:Animating Travel Maps. This 2-disk DVD Tutorial is available in the Casablanca Expert Online Store.