A new feature that was unveiled in the Bogart V4 Operating System is the ability to customize the three time or length buttons found in the many effects menus in your Casablanca Editor. Those who have worked with Casablanca for some time know these buttons had a pre-set values, though you could (and can still) click on the 'slider' to manually adjust the length of your effect or scene to your preference.
This new button allows you to set custom lengths for the buttons. For example - below is a look at the length menu from the Transitions menu (you see this when you click on the time box in the upper right corner of the Transitions menu - normally showing as 0:01:00
My menu shows different times (0:24, 1:04, 3:15).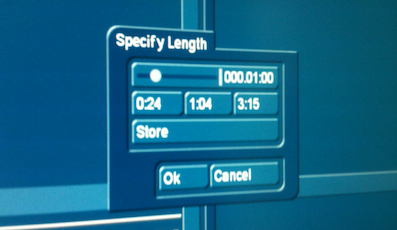 Here's how you customize these menus:
1. Use the slider to set the duration (length) you desire
2. Left click on the 'Store' button
3. Left click on the button you wish to save this new time on.
NOTE: The old time will be replaced and no longer available on that button. Of course if you find you liked the original time/s better - you can use this same process to reset the button or buttons back to the times you prefer.
You will this function in the 'New' options under Edit, the 'New Sample' option under Audio Recording, Edit and the Transition screen.
---
If you're not yet a member of the Casablanca Expert community - consider joining today. You'll have instant access to more than 610 articles - including print-able tips & tutorials like this one, streaming short video tutorials, and the monthly webinars - and the streaming video recordings of more than 30 webinars!

Members subscription amounts to just 35-cents per day. You can join at either $12.99 per month or the cost savings $62.35 for six months. For details click here or simply click on the 'Join Now' button in the upper right corner of the Home page.