"I am pleased to share that my Casablanca Expert website sponsor
this month is CAM Audio, Inc." says Chet Davis - The Casablanca Expert



DVD Duplicators at a new lower price!
CAM Audio has just announced a dramatic drop in prices for their DVD/CD Duplicators. They produce their own duplicators and I can speak personally that they are reliable units (I own their 3-bay model with the 80 GB internal Hard Drive). It is important for you to know that this is not some cheap import with no service - CAM Audio knows duplication, that's how they started their business! And they are strong on service as well.
Here are the new, lower prices for these professional grade DVD/CD duplicators


| | | |
| --- | --- | --- |
| 11 Drives | Model # A1116D | $ 690.00 |
| 9 Drives | Model # A916D | $ 625.00 |
| 7 Drives | Model #A716D | $ 460.00 |
| 5 Drives | Model #A516D | $ 370.00 |
| 3 Drives | Model #A316D | $ 275.00 |
| 1 Drive | Model #A116D | $ 190.00 |
To order yours (or for more questions) please call CAM Audio, Inc. at 800-527-3458.
And if you mention 'Casablanca Expert' they will throw in free shipping!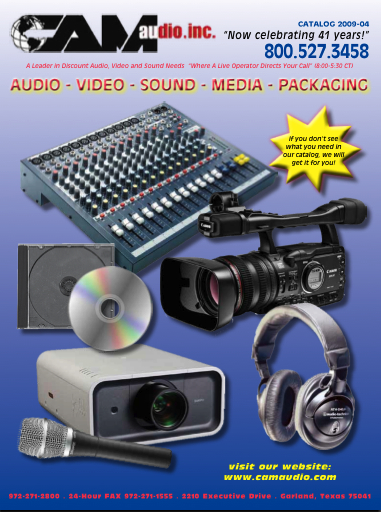 Download your own copy of the 52-page CAM Audio Catalog to check out all the Audio/Video/Media Production tools and supplies they offer.
Click here
to download the PDF document.
---
CAM Audio Inc. is your one stop shop for all things audio, video, sound, packaging and Casablanca products. They have been in business for 40 years. Established in 1968, specializing in audio cassettes and cassette duplicators, they have since evolved to be more accommodating to Church/Ministry, Government and professional videographers' needs.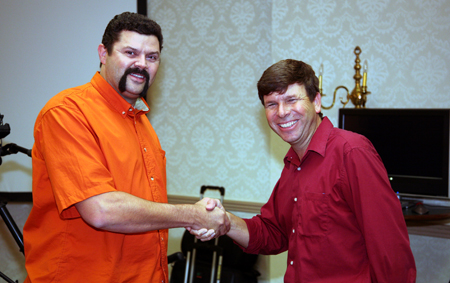 Seth Hampton (CAM Audio Casablanca Specialist)
& Chet Davis at one of the CAM Audio/Dallas Conferences
CAM Audio has been a proud Dealer of Macrosystem products since 2000, recently being recognized as one of the few Gold Star Resellers in the nation. CAM Audio has hosted several Casablanca Conferences and hosts regular Casablanca User Group meetings.
"CAM Audio takes great pride in our sales and especially outstanding post-sale customer support and service. In addition to Casablana products, CAM Audio, Inc. offers professional products from Canon, SONY, Electro-Voice, Audio Technica, Soundcraft, Sennheiser, Bogen, Manfrotto, Sanyo, Focus Enhancements, Kramer, Bescor, Sharp, and Draper just to name a few."

CAM Audio also provides CD/DVD duplication and replication services, custom graphics and a very large variety of packaging products.
CAM Audio, Inc.
2210 Executive Drive
Garland, Texas 75041-6119
Telephone 1-800-527-3458
E-mail
seth@camaudio.com

Showroom Open to the PublicMonday-Friday 8:00 am - 5:30 pm (Central Time)