If you are working on the Bogart OS in your Casablanca and have the add-on title package called 'Title Studio' there is a short-cut that is new to Bogart V4. Previously to switch between the Standard titler and the Title Studio options, you had to leave the Title menu, go back into System Settings, enter the Install Product menu and either
hide
Title Studio (at which time the standard Titler would become active) or
Activate
Title Studio (at which time the Title Studio became the active titling engine.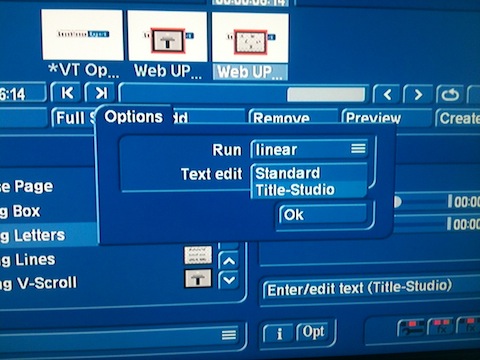 Beginning with Bogart V4 OS you can click on the 'Opt' button in the Title Screen and switch between 'Standard' and 'Title-Studio' via the 'Text edit' option there. This is SO much easier and faster! NOTE: to do this you must first have the add-on 'Title Studio' activated (and is not an option with Smart Edit OS).
Also, I should note if you begin a title effect using Title Studio - even if you have Title Studio turned off (and the Standard titler selected) the Title Studio menu/options will show when you enter that scene with the Title Studio effect added to the Storyboard.
To change a title effect/scene from Title Studio back to the Standard Titler, you must remove that Title from the Storyboard, then switch back to the Standard Titler and it will behave as you desire.