To install software on the original Casablanca (Cassie Classic) we used the 3.5" computer diskettes, which was the standard for contemporary computer data at the time.
For the Casablanca Generation II series of editors - which started with the AVIO and Kron and continued with the Prestige, and the Solitaire - Smart Media Cards (SMC) were used. These little cards which measured 45.0 × 37.0 mm were the successor to the 3.5" computer disks.
The Casablanca Renommee was the first Casablanca video editor to not use the Smart Media Card and instead utilized the CD-ROM optical disk to load software. The Casablanca Columbus software contains and utilizes some very high resolution maps (the Big Maps software products) which require distribution on DVD rather than CD, as the amount of data is greater than the 700MG of the standard CD media). The Bogart V4
Pictured below are examples of these different Casablanca software media:
---
3.5" 'floppy' disks supplied the software for the first generation
Casablanca editor, the Casablanca Classic ("Cassie")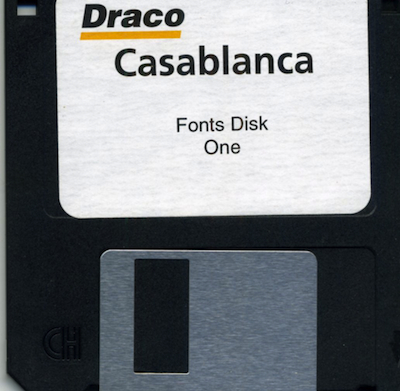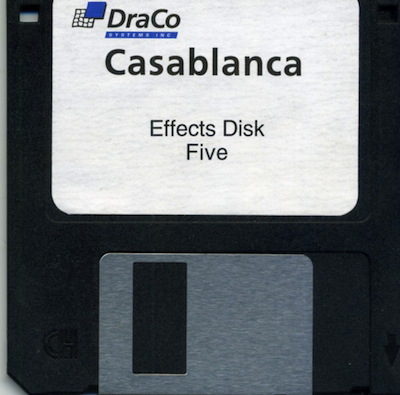 The Casablanca Akaba paint program for the Casablanca Classic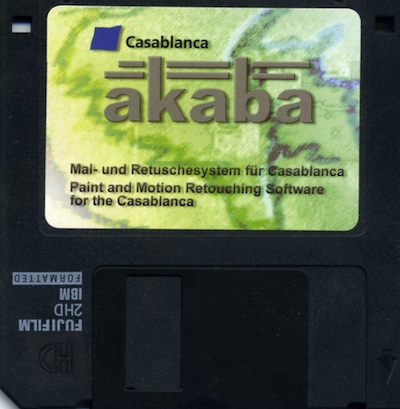 Monument Titler Deluxe - a very fancy titling effects program used on the Casablanca Classic. Chet still has veteran Cassie editors ask him about this product with great fondness...
"it's the one program I have folks tell me they wish they had this on their current, newer Casablanca editor"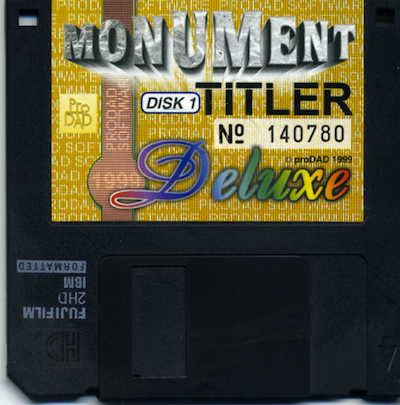 ---
With the Casablanca Generation II video editors, the software was distributed and installed via Smart Media Card.
From
Wikipedia article
on Smart Media Cards:

SmartMedia was popular in digital cameras, and reached its peak in about 2001 when it garnered nearly half of the digital camera market.

It was backed especially by Fujifilm and Olympus,though the format started to exhibit problems as camera resolutions increased. Cards larger than 128 MB were not available, and the compact digital cameras were reaching a size where even SmartMedia cards were too big to be convenient.

Eventually Toshiba switched to smaller, higher-capacity Secure Digital cards, and SmartMedia ceased to have major support after Olympus and Fujifilm both switched to xD. It did not find as much support in PDAs, MP3 Players, or Pagers.
Here's a package, the SMC on the top left, with it's plastic sleeve at right. Beneath it the label that lists the software products and their 12-digit activation codes (this was for Smart Edit V3, Arabesk 2, HD Backup, and 3D Shapes software)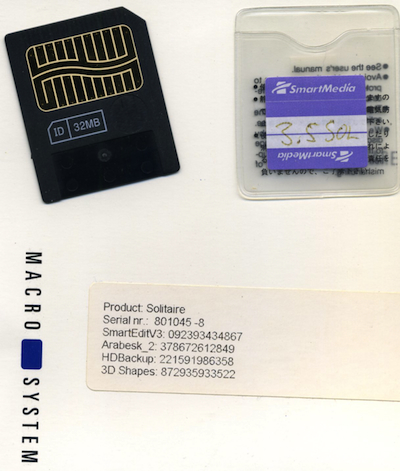 This is the snazzy paper folder that your Smart Media Card came in when you purchased a new Casablanca or ordered software from the Boulder offices of MacroSystem US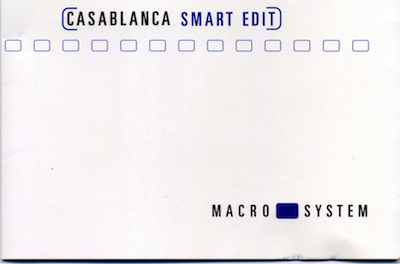 ---
Beginning with the Solitaire Plus and the Renommee/Plus product line the Casablanca video editor had the capacity to boot (start-up) from the CD/DVD drive. This allowed us to install software directly from CD. In fact beginning with the Renommee product there was no Smart Media card slot on the Casablanca products.